Welcome to
Turn your speakers on to hear "Grab Your Balls We're Going Bowling"
(Sorry, it won't play on a Mac)
11/29/2012 ****View this online at: http://www.lopatka.net/Wags47/ **** Volume 3, Issue 11


Double Triple For Tony Letto


November 19, 2012, Motorheads Vs. Wags at Center Ice
Things looked bleak at game time because it is hard to get working men to stay up late and drink beer on a Monday night when the Bears are on TV. Jay "Road Runner" DeMaria showed up, but Anna, his personal trainer, told him he had to sit one more week. We had 7 skaters at 9:40 and Ed "The Wall" Waghorn was looking depressed and didn't even feel like strapping on the pads. Terrific Tommy Z and Uncle Dan Lopatka told him to quit moping and get dressed. I tried to cheer him up by telling him that the Motorheads only had 7 skaters too. When the puck was dropped, the Motorheads had 3 full lines! The first 19 minutes looked bad because

John got a poke in the mouth with a sharp stick.


we couldn't get out of the zone, The Wall played up to his moniker and stopped everything. Eric "Double E" Embric scored the only goal of the period when Tony "The Tiger" Letto sprung him with a great pass for 2 on 0 break away. Eric fooled everyone when he ignored the wide open winger on his right and fired it past the goalie for a 1-0 lead. Four minutes into the second period, Tony picked up another assist when he passed to Kevin "Smooth as" Glass on the left side of the net. Kevin threaded a pass through a maze of skates right to a Wide open Tom Zagorski who fired it into a wide open net. Tony made it 3-0 eighty one seconds later when he was set up by Hitman Hartman who missed the first period because he thought it was a 10:40 game. Tony got his own rebound several times and finally fired it past the bewildered goalie. Hartman was a welcome addition that gave us 3 guys on the bench, but that luxury didn't last long because Johnny Pollelo went for stitches after he was dropped by a sharp stick in the lip. Jay "The Road Runner" made a dash for ice and bandages to help stop the bleeding. The Motorheads finally solved Ed with 6:54 left in the second period, but Tony restored the 3 goal lead with an unassisted goal with 56 seconds left in period two. Letto picked up his Playmaker Patch when he set up Tommy Z with a buzzer beater that crossed the goal line with 1 second on the clock. That gave us a 5-1 lead going into the final stanza. Thirty six seconds into the period, The Motorheads cut the lead to 5-2, but Hartman restored the 4

goal lead 4 minutes later with an unassisted goal. Tony Letto picked up his hat trick a minute later and put the game out of reach with another unassisted goal. The Motorheads were able to add 2 meaningless goals to make the final 7-4. Gary "The Inhibiter" Hibler had a fine game ticking off of the Motorheads.
e-mail me to get on the Wags E-mail list: g.lopatka@comcast.net.



November 19, 2012 Highlights:


Jay DeMaria: Good Samaritan
Chris Hartman: 1 Goal, 1 assist
Tom Zagorski: 2 Goals 2
Tony Letto: 3 Goals, 3 Assist and a glove save that left a mark
Kevin Glass: 1 Assist
Eric Embrec: 1 Goal, iPenalty


#1 star of the game was ready for a nap

| | |
| --- | --- |
| | |
| | |
| | |
| Tony had 3 goals, 3 assists and a great glove save. | |
| | |
| Tommy had 2 great goals, his second one was the Dagger with 1 second left in the second period. | We saw a great game on Saturday when Donny Granato's USA U-18 team beat the Chicago Steel 7-3. |
You think Ed is an old goalie, check out our goalie below.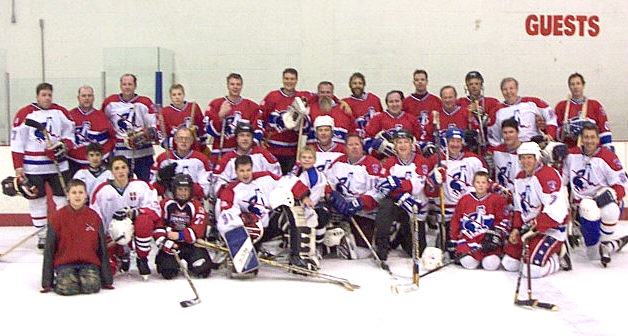 Ryan (3rd from the left) and Ricky Dzingel were just learning to skate when this picture was taken. That is Jeff next to Mr. Granato.
Thanksgiving 2001