Links to Duffer News in the Year 2003
Click on the pictures to see the full size.
Use your Browser's BACK button to return to this screen. Don't forget to visit Duffer Bar-Toons
To search this site, go to the search page. Type in a name like Stump, and you will find 100 pages where Stump is mentioned. Beer-Nuts only has 80 because of poor attendance. Boris, Hacksaw and Mr. Clean combine for over 100.
The Duffer News is on Vacation. Klinger, Papa, Beer Nuts (2) scored the last meaningful goals of the year. Enjoy a page from the past!
January 1, 2004
December 26th, 2003
Stump's roll as Goalie in chief has changed slightly since THR surgery.
Rumor has it that goalie selection goes to the highest bidder.
December 19th, 2003
Granato Clinic!
December 12th, 2003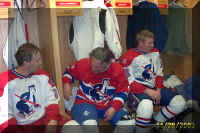 9 Meaningful Goals!
December 5th, 2003
Duffers give thanks with a road trip to Peoria!
November 27th, 2003
Thanksgiving!
November 21st, 2003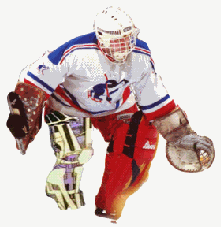 Stump Gets a New Hip!
November 14th, 2003
Team Picture by John Koss!
November 7th, 2003
The Hansens were there!
October 31st, 2003
Nick the Hammer becomes a regular at Nicks!!
October 24th, 2003
Rich Storm does Mr. Clean again!!
October 17th, 2003
First Strides for a Future Duffer!!
October 10th, 2003
Klinger's Fish Story!!
October 3rd, 2003
Great Wedding!!
September 25th, 2003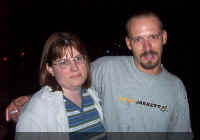 Goalies Rule Again!!
September 19th, 2003
Papa celebrates Golden Wedding anniversary! Cheryl gives Johnny Z. a daughter!
September 12th, 2003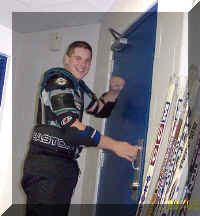 The 2003-04 Duffer Season starts with a player lock out!
September 5th, 2003
The 2003-04 Duffer Season starts tonight!
August 29th, 2003
Knarf, Rich Storm and Klinger have a beer in the Tweeder Center parking lot.
August 15th, 2003
Our Bachelors have a beer in the parking lot.
August 8th, 2003
More Duffer Summer Fun
July 27th, 2003
1986 State Champions reunite.
July 18th, 2003
Duffer Summer Fun.
July 4th, 2003
June 20, 2003
The First Summer Game and the Nailer's Bridge.
June 13, 2003
Afternoon Picnic Pictures on Page 2
Summer Fun begins. Frank gets Klinger Krash Award at the picnic.
May 30, 2003
May 13, 2003
May 9, 2003
The Ghost Shuts out the Reds!
May 2, 2003
The The Duffers pay Homage to the King!
April 25, 2003
The Brain Shuts out the Reds!
April 18, 2003
Bilingual Thor protects our Border.
April 11, 2003
Baseball season is here! Spring starts! (Snow hit the Cub's opener)
April 4, 2003
Cammi sets up her dad! Baseball season starts!
March 28, 2003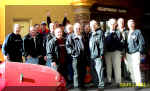 Las Vegas Pictures from Day #4
March 21, 2003

Thor brings out an old shirt
March 14, 2003 Three Pages!
http://www.lopatka.net/3-14-03/page2
http://www.lopatka.net/3-14-03/page3

Peoria Pictures

Las Vegas Pictures from Night #3

Las Vegas Pictures from Day #3

Christmas Party Pictures

Las Vegas Pictures from Day #2

Las Vegas Pictures from Day #1


Goalies Rule with Braille Goaltending.

Meaningful Goals by Thor, Harvey, Papa Joe, and Hitman.

Beak and Bobka exchange Meaningful goals as Bobka factor is reviewed.
Frank's Hat Trick gives him a concussion.
Brinks and Hitman exchange Meaningful goals as Nick's lunch brings in record crowd.
Wanted! We are concerned about some missing Duffers. Click here to view the Wanted Posters.
Go to Duffer Nick Names
Go to 1988 Photo Album
Go to 2011 Links
Go to 2010 Links
Go to 2009 Links
Go to 2008 Links
Go to 2007 Links
Go to 2006 Links
Go to 2005 Links
Go to 2004 Links
Go to 2003 Links
Go to 2002 Links
Go to 2001 Links
Go to 2000 Links
Go to 1999 Links
Go to San Jose`
Go Hayward 1994
Go to 9/6/96
Go to 10/25/96