Brinks Does it Again!

November 16th
Brinks did a repeat of last week, as he scored a Meaningful goal late in the 3rd period to give the Home team Whites a 1-0 win. Mini-Wheezer scored 2 of the goals for the Reds (He bought me a beer) I can't remember who scored the other meaningless goals, because Peoria damaged my memory.
Peoria, Saturday November 17th
We had 18 Duffers that made it down to Peoria on Saturday November 17. We played for almost 3 hours and the Rivermen beat the Arkansas River Blades twice.
Overnighters: Uncle Bob, Super Dave, Doc, Frank, Beak, Hacksaw, Beer-Nuts, King, Harvey, Mini-Wheezer, Beavis, Brinks, Bob and Dan Granato.
Driving in Eddie's Camper:
The Anvil, Stump and Koss. The Nailer drove down just for the Duffer game.
This is not a Rich Storm creation! This is the real Anvil as he appeared at Cracker Barrel on Weber Road Saturday morning.
This one will have to be added to Duffer CD II Peoria slide and music show.
New Orleans Roadtrip
The King has started to get a list together for a ride on a train to the city of New Orleans. The Rivermen play the New Orleans Brass there on Friday, March 15, 2002.
E-mail Web master Beak
lopatka@ix.netcom.com
Remember, all games start at 8:00!
Directions to Rocket Ice Arena
Hacksaw may have a new nick name. If we use the name Mr. Clean, it needs no explaination.
A Rich Storm Calendar is now available for only $4.95
(Plus shipping and Handling) The calendar starts in
November 2001 and ends with December 2002 All of your favorite Rich Storm Creations are included.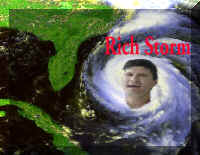 Golf Outing Pictures are posted at:
Holy Trinity High School 2001 Golf Outing
Golf Outing September 2000
1999 Golf Outing