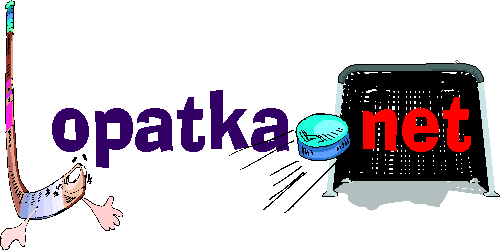 Duffer News for March 22, 2002
Duffer fun began earlier than usual this week when Beak Junior called his dad on Wednesday at 9:00 AM to tell him that he and Knarf were pictured on the front page of the Homer Township Sun. He said one of the superintendents brought a copy into the managers meeting and they had a good laugh when they saw Klinger's picture doing what he does best, eating and drinking. Beak called the Homer Glen Building Commissioner, Mike "The Nailer" DeVivo to see if he saw the paper. The Nailer was way ahead of Beak, he had already bought up all of the copies at the White Hen. A little old lady begged him for one of the papers, because her dog was on page 17. Mike gave her 10 pictures of her dog. The timing of the paper couldn't have been better, since some of the meaningful Duffers had their Last Nick's Tavern Lunch of the winter scheduled for 1:00. The Nailer showed up with an arm full of papers. Our energetic waitress, Karen, was happy to wait on her celebrity table of big tippers. There was a picture of Mr. Clean hooking Tommy Z, in the center fold of the paper, along with a great smiling picture of Buckshot Bob Morgan. Newspaper speed reader, Knarf, read the 3 page article by the time their 1 pound burgers arrived. They were a gay party of 5, as Hacksaw's friend John Gay joined them..
The Duffer fun continued on Friday when Beak got a wake up call from Doc (The Non Dentist) with a request to take some pictures of him and his staff at work. Beak took care of that, then had a few beers with the ladies at a south side Irish bar. The Alien got a copy of the Bolingbrook Sun from Beak Jr. and started reading the article (A big Thank you to Beak Jr. for buying up all of the newspapers and bringing them in to the locker room)
Green haired Harvey, scored the only Meaningful goal to give the Reds a 1-0 meaningful win over The Ghost's Whites. Eddie the Anvil was in rare form as he stopped everyone except Buckshot Morgan, who had a Hat Trick to celebrate his centerfold spread in the Sun.
A big thank you to Brinks for supplying the Strohs in the parking lot, where Klinger and Magoo try to stay warm with a cold beer. The King presented the bartenders at Bono's with the much coveted Duffer 30 year Duffer Logo shirts. The evening ended with Sean Morgan downing a "Big Burger". We had a lot of fun, thanks to Bolingbrook reporter, Lauren Kraft and Photographer, Nolan Wells for a fine cover story. You can read the Sun story on line at the bottom of this page.
The Duffer calendar went from 0 to 7 events this week, please update you calendar. The Downers Grove Village Special Events Coordinator called to see if the Duffers would participate in the Cammi Granato parade this year with a float and Harley. We need volunteers for decorating the float. We will need Hockey bags to line the flat bed float. We also need roller bladers of all ages in Duffer jerseys and soft pucks that we can throw to the crowd. E-mail Beak if you want to volunteer, or use the Volunteer Form at the bottom of this page.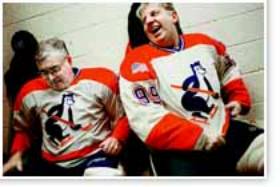 The fun gets started early in the Rocket Ice Arena locker room in Bolingbrook for Frank "Knarf" Presecky, left, of Lisle and Greg "Beak" Lopatka of Downers Grove. About 40 players make up the roster for Duffers Hockey, a 31-year-old league that meets every Friday night.
Puckish fun
For Duffers Hockey Team, the main goal is having a blast
By Lauren B. Kraft
STAFF WRITER
While his friends and teammates are sitting at the bar washing down loaded hot dogs with cold beer, replaying the events of their game, Larry Hansen has a different kind of story to tell. Much of the night has been spent telling stories about pranks or giving advice on women. Hansen said he knows the real guys behind the joking, teasing and rambunctious facade of the Duffers Hockey Team. Hansen is one of about 40 men in the western suburbs listed on the Duffers roster. On any given Friday about 20 or 25 guys show up for the noncompetitive game at Bolingbrook's Rocket Ice Arena, and the beer and camaraderie at Bono's Bar and Grill afterward.
The Duffers split up and form teams in the locker room on Fridays. Basically, if you wear a red jersey that night you're on one team, a white jersey and you're on the other. The team's oldest member, "Papa Joe" Mazzarella, 72, plays just as much as the youngest, 30-year-old Dan Lopatka, because players continually rotate in and out of the game during the Duffers' two-hour ice time.
They insist on a mirthful game — checking and the usual head-smacking antics are highly discouraged. In fact, team owner Jim "The King" Miceli booted half the team members out of the arena one time when they suggested a more competitive game. "The best thing about this is you have the worst week and all these guys are guaranteed to make you laugh," John "King Kong" Zagorski said. "It's therapeutic. I don't remember the last time I was out here and didn't have a good time." With all the good times the Duffers have had, Hansen said he can remember one horrible time. His wife was diagnosed with lymphoma about seven years ago and with the crunch of medical bills setting in fast, his family was struggling. Fellow Duffer Jim "Woody" Mazurk quickly put together a fund-raiser for the family, recruiting Duffers Don Granato, a beer distributor, to donate the alcohol, Jim Coughenour to provide the music, and others to donate items to be raffled. Mazurk wasn't even particularly close to Hansen, but he offered up his house for the party and soon people were paying the medical bills without consulting Hansen. "These guys extended themselves beyond what they ever had to think about," Hansen said. Hansen's wife died five years ago, but he still remembers the Duffers' softer side strongly. "You may hear the jokes or some of the funny ha-has," he said. "But you might not hear some of the heart-wrenching stuff.
"Everyone's just a big family."
A long history
It was 31 years ago when Miceli, nicknamed "The King" because he co-founded and runs the Duffers, was at his son's hockey game with Wally Kraft and Frank "Knarf" Presecky, 64, when the three decided to start their own team. "We were standing around watching our kids play and Jim Miceli said, 'Well, we should play,'" Presecky said. It took only three weeks to throw together an adult hockey team that would skate Sunday mornings at Downers Grove Ice Arena. "There's many ways we accumulated the people that have the right outlook on the game," Presecky said. From the beginning the team was centered around fun and fraternity. The team members insist they'd rather have bad players come out for the games than more talented ones. "Our attitude is, 'Hey, anybody can play, even if you're no good,'" Presecky said. "If you only want to put good people in the game, it gets pretty competitive."
Quickly, the team became a tight-knit group. It wasn't something the Duffers planned, but now they throw a lot of parties and take three to five road trips a year. Already in 2002, small groups took a trip to Peoria to play against the Peoria Duffers and Salt Lake City to see Granato's hockey star daughter, Cammie, play in the Olympics. "One thing about the Duffers is they have become our best friends off the ice," Presecky said. They insist the relaxed attitude is the key to the team's 31-year run. "The secret to our longevity is we've just kept it noncompetitive," Miceli said. Homer Glen resident Mike De Vivo, who joined the team five years ago, said the team members' closeness doesn't mean they shut others out. "There's not a sense of exclusiveness or arrogance here," he said. Guys from different generations find themselves wanting to room together on road trips or sitting together at the bar after their games discussing hockey gear or the night's best assist. "The young guys aren't embarrassed by going out with the old guys," Presecky said. "That I find amazing," Miceli said. "There is no generation gap." No matter how close the players are though, the old guys rule the rink.
About 15 years ago when the first Duffers generation allowed their sons to join the team, they established a new set of rules that rotates around age. Ask what the score is during a game and the Duffers will shoot a question back just as fast, "Do you want the meaningful score or the meaningless score?" Confused? It goes like this: The mean age of the Duffers is 48, and any goal scored by someone younger than 48 doesn't count. It's not meaningful. If a Duffer 48 or older — a "meaningful Duffer" — scores, the goal is good.
Another age discrepancy is the checking rule. On a recent Friday, it is not long before the older guys are slamming into the younger ones, at times leaving the "meaningless" Duffers lying on the ice while they skate off toward the goal. One Duffer tackled another around the waist, then scooted off, leaving the younger player shaking his head and getting a hand up from a teammate. "As long as they're younger we're allowed to do that," Greg Lopatka said. "You know who to step it up on, rub into the boards," Ken Lopatka said. "The old guys, you don't do that to them." The older Duffers have been known to lend a helping hand once and a while — they say they've taught their sons all about women. "You never tell your mother or teacher what you hear in the Duffer locker room," Greg Lopatka said. His sons Dan and Ken both play with the team, as does 10-year-old Jeffrey, who referees. Dan still retains his nickname "Tweety" from when he started refereeing at 10 himself.
The Duffer nicknames are just as much a tradition as the locker room advice or the constant teasing. "Half these guys don't even know their real name," Ken Lopatka said. "I've been calling (my dad) 'Beak' since I was this age," he said, pointing to his son. Greg Lopatka, who has become somewhat of a team historian, dedicates one of his Web pages http://www.lopatka.net/ to the Duffer nicknames, which range from "Drano" for the team plumber, to "Doc" for a dentist, to "Brinks" for Granato who used to say, "What do you think I am, Brinks?" when his kids asked for money. Other pages on Lopatka's site shows pictures and a newsletter with anecdotes from every road trip and game night. While the men have plenty of silly stories — like the time they had a quick dinner in the locker room (Greg Lopatka said to De Vivo, "Did you ever think you'd sit around with 15 naked guys eating pizza and drinking beer?") — they have memories that could break your heart, they said. "It is truly a unique group," De Vivo said. "It is without a doubt the greatest bunch of guys I have ever met in my life." Contact STAFF WRITER Lauren B. Kraft at (815) 439-4348 or lkraft@scn1.com.
Names of the game
The Duffers received their nicknames a number of ways. Duffer News editor Greg "Beak" Lopatka sorted the names into five categories.
Name association: Gary Kasper was nicked named the "Ghost" because of Casper the Friendly Ghost. Frank Presecky was nicknamed "Knarf" because it is Frank spelled backward.
Job association: Mike Spillman was nicknamed "Captain Hook" because he owns Split Second Towing. Tim "Drano" Staats is a plumber.
Friend association: Tom "Butt Head" hangs out with Jim "Beavis" Cougenour. Rob "Piggy Bank" Granato received his nickname because he and his sibblings asked their father, Don "Brinks" Granato, for money all of the time. Don's response: "What do you think I am, Brinks?
Physiology: Greg Lopatka's large nose earned him the nickname "Beak." They call John Landry "Magoo" because of his bad eyesight.
Behavior: Boris "Hacksaw" Pavichevich once scratched his back with a hacksaw blade, leaving a huge scar, Bill "Alien" Allen is an oddball, they say.
The previously empty Duffer Calendar filled up quickly.

April 20 Cammi Day Parade in Downers Grove
The King will lead the Duffer float down Main street with Klinger's red white and blue Harley, while we throw Duffer Cammi pucks to the crowd.
May 3 Emil Ludy's Retirement Party
May 4 Emil Ludy's Golf and Hockey Game
June ?? First Summer Skate
June 8 Tentative Picnic Date
June 20 Jimmy Buffett Concert
July ?? Tony and Tina's Wedding
Click on the above invitations for Emil's party details
Click here for last week's news.
Click here for links to back issues
Use the form below to let us know what you will do for the Cammi Day parade!