My son Ken has a car that came out in 1957, when I was a junior in High School. Now his son Jeff is racing that car down the drag strip. Click here to see Jeff turn a 10.6 at the Drag strip.
Lauren Kraft of the Bolingbrook Sun has written a story about Bono's Cruzzin Saturday Nights Car show. She interviewed Ken Lopatka and Rick Topolewski at the Downers Friday Night Cruise show. You can see Ken's 57 Chevy and Rick's 64 Chevy II Nova every Saturday night at Bonos.
Chrome at last
Classic car night launched in Bolingbrook

When Ken Lopatka was in high school, his father, Greg, didn't have the same worries other parents did. He always knew where his son was, what he was doing and who he was with. The car fanatic could typically be found in his dad's two-car garage, fixing, painting and rebuilding classic autos. Lopatka and his high school friends spent many nights and weekends working on projects. "We always stayed out of trouble until the cars were done," said Lopatka, 39, of Bolingbrook. "My dad never had to worry about me getting into drugs because I put all my money into cars." For 10 years after high school, Lopatka and his friends stuck around the area and worked on cars together, eventually calling themselves the Eliminators Classic Car Club. The club died off around 1990, when the guys started getting married and having children. They bought houses and started acting like responsible adults, which led some to sell their toys — namely their classic cars, Lopatka said

Now that their children are older, the Eliminators have gotten back together to buy cars and talk shop. This time they have the cash flow and the contacts to do everything on a larger scale, Lopatka said. The group's biggest venture is the new Bono's Classic Car Cruise Night at Bono's restaurant, on Route 53 just south of Interstate 55 in Bolingbrook. The weekly event, held at about 4:30 p.m. Saturdays, is a chance for the members to show off their vehicles and gab about their hobby.
"The automotive enthusiast is a different breed," Lopatka said. "You get to talk to people who understand what you're into," said Rick Topolewski, 45, while standing near his orange 1964 Chevrolet II Nova. "I'd rather do this than chase a little white ball around in the grass."
The Eliminators, about eight guys in their 30s and 40s living in Bolingbrook and surrounding towns, also make the trek to two or three other cruise nights a week in other towns in the area. Group members also help each other with their automotive projects. Lopatka helped Topolewski cut down a fence in an overgrown Chicago yard to drag out the Nova eight years ago. Since then the two have replaced just about everything on the car. "What we didn't have to take off fell off itself," Topolewski said. Conversations at cruise nights usually focus on ways to fix up a car, as well as how fast the cars can go, Lopatka said. He gets quite a few questions about the light blue 1957 Chevrolet wagon he brings to the shows. You get "101 questions because the car's so unique. It's a one and only because of the way I customized it," Lopatka said.
He said a lot people are interested in learning about classic cars, and that has helped make the new Bolingbrook cruise night a success. "Every week we get a bigger crowd of cars," said Bono's owner Ron Towner. Sometimes 50 vehicles will be on display, he said. And it is not just grown-ups who enjoy coming to the event, Towner said. "We've got kids running all over." That youthful atmosphere is perfect for the Eliminators, whose love of classic cars keeps them young at heart, Lopatka said. "You grow old, but you don't have to grow up," Lopatka said. Contact STAFF WRITER Lauren B. Kraft at lkraft@scn1.com or (815) 439-4348.
07/12/02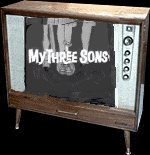 To E-mail Web master, just click here! g.lopatka@comcast.net
Go To Super Chevy 2006
Go To Page 2
See My Custom Trailer Tire Mount