Welcome to
Bolingbrook, IL Friday, 3/24/06


Attendance 26 Report by The Beak


The Brain bounced back from his 12 goal victory 2 weeks ago, with his second Meaningful shut out in a row. Stump got a call from the Anvil just a few hours before game time. Eddie was in a ditch and couldn't get to the rink, so Stump had to call up his emergency rookie goalie, who was at the rink playing with the girls. I think his name was Bill, although no one answered my e-mail query to confirm my poor memory. The Brain had one of those nights where everything went right for him. Even Klinger's blocked shots went wide of the net.

Bill BTW makes a presentation to Rich Storm for his efforts.


He had to stop a lot of shots with speedy teen snipers Jeff and Rob firing rubber at him, plus he held Tommy and Johnny Z to only 2 goals total. The Whites had an easy Meaningful win with goals by Thor, Brinks and Hitman. Thor dufferized the new goalie with his early flutterblast goal. Brinks and Hitman put the game out of reach. Hacksaw had hopes of a shoot out when the game was close in the third period, but the Whites pulled away in the final minutes to end all hopes for a shoot out.
Buffalo Wild Wings Turned out to be a good place for a story telling drinking team. It was pretty smoke free, now that Thor has been smokeless and it was 85 decibels quieter than Bonos with the Karaoke noise.
Golf Outing August 26 When I was given 5 more tickets to the Cub-Sox game, I was given them under the condition that I would get a group of Duffers together for the August 26th golf outing at Waveland's 9 hole gulf corse.
Duffer Wolves Game Outing
Mini Wheezer needs your $15 this Friday if you want to have a ticket for the April 5th Game.

Toronto Photo Story CDs are Ready!
I have a 25 minute Windows Photo Story with over 270 Toronto Road trip photos and 6 great songs that Rich Storm assembled for us. The CD-ROM version is now on sale for $9.95. I can have them put into a DVD format for an extra $5.00. All proceeds will go to my favorite charity for children with a dead beat dad. Stump will have a DVD video out soon, He is working on a price. Order Now!


26 years ago

3/1980 Brinks coaches Huskie Squirts, with Dan Lopatka (Tweedy) and Robby (Piggy Bank), to a state championship.


Beak coaches Huskie Junior B team, with Ken Lopatka, to a state championship. The Huskies went on to finish 3rd in the nationals in New York.
3/11/1980 Ann Jillian poses for Duffers


Our Canadian Friends inform their bosses that they are going to Buffalo to make some contacts.

Click on the images below to see a larger image.
Click on the image below to see a larger image.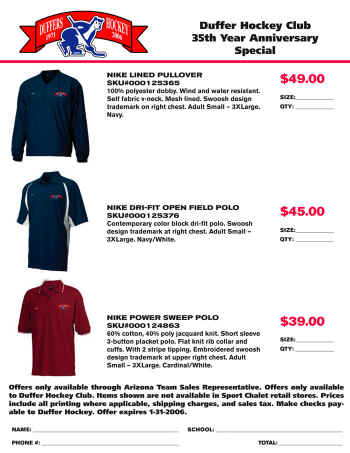 To E-mail the Duffer News Web master, just click here! lopatka@ix.netcom.com
You can e-mail History updates to Beak.
http://www.sportzdomain.com/womenshockey/
http://www.rivermen.net
http://www.coloradoavalanche.com/
http://www.stlouisblues.com/index.html
Looking for a page with your name on it? Try the
search page.